Reduce Fat. Tighten Skin.
If you'd like a tighter, better toned body without significant surgery, BodyTite by Dr. Elizabeth at Atlanta Face & Body can be a great option.BodyTite utilizes RFAL (Radio-Frequency-Assisted Lipoplasty) to remove fat and, at the same time, tighten the skin. With a small incision, Dr. Elizabeth is able to perform BodyTite contouring, sometimes together with liposuction, to target troublesome areas to gain a more desirable, sculped figure along with firmer, tighter skin.For many, age and other life events bring about stubborn fat that, even through dieting and exercise, are still present. Dr. Elizabeth has identified several key areas and has developed exclusive procedures, with BodyTite technology, that allow a more focused-approach on those specific areas of the body. These include:
Tummytight™
Necktight™
Armtight™
Thightight™
Kneetight™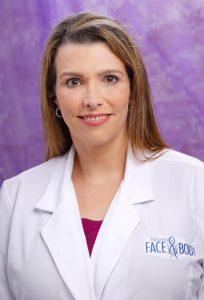 Private BodyTite Consultation
At Atlanta Face & Body, we realize that having any surgical or nonsurgical procedure can be a very exciting time. But, it is very important to understand how the procedure will be administered, expected discomfort levels, downtime following the treatment and expected results. Our consultants will explain everything you need to know and take the time to answer all of your questions. They also can work with you on expected pricing and payment and financing options.Every consultation at Atlanta Face & Body will include learning how specific procedures, including FaceTite, may yield the best results for you.
Click here
to request your private consultation now.Your consultant will work with you to identify the areas of your body where BodyTite can be most effective, including stomach, arms, chest, knees, inner/outer thighs, and other areas. You will be advised as to how the procedure works, preparation, expected downtime and results.
How is the BodyTite Procedure Performed?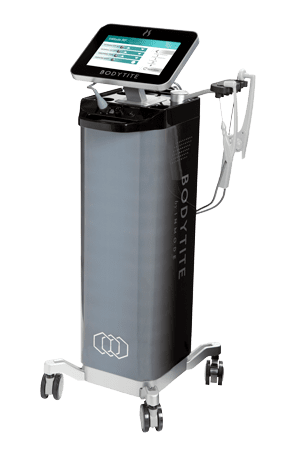 BodyTite is performed by creating a small incision in a somewhat hidden area (usually in a natural skin fold) and, using a needle device placed beneath the skin, the fat layer of the desired area is treated with radiofrequency to melt excess fat and induce collagen production, allowing the skin to naturally tighten. Dr. Elizabeth frequently will combine BodyTite with Liposuction for more dramatic results. The two procedures complement each other well, and would be performed during the same visit. For patient comfort, the procedure is done with local or anesthesia during the procedure.
Are You a Candidate for BodyTite?
If you have problem areas that haven't responded to other tightening or weight-loss efforts, you might be a great candidate for BodyTite. Generally, men and women above the age of 18, will begin to notice more than desirable amount of fat on the buttocks, back, knees, hips or arms. These can be areas that you've had for a very long time or some troublesome areas that are noticeable due to recent weight loss or workout routines. BodyTite is designed to treat these areas to reduce fat and tighten skin. Typically, those who can't afford the downtime normally associated with surgical procedures enjoy the benefits of the shorter recovery time and less time out of work offered by BodyTite.As with all our procedures, Dr. Elizabeth and her staff will provide you with a thorough evaluation, and explain all options available to you. Then it's up to you to decide what's right for you. Click
HERE
for a Free Private Consultation.
What is the recovery time following BodyTite Procedure?
Because BodyTite is minimally-invasive, the recovery time is usually short. You'll need to avoid strenuous activities for a week or so, and you may miss a little work. Dr. Elizabeth and her staff will provide detailed instructions on how to manage your recovery, so you have minimal downtime and the best possible results.Following your BodyTite procedure, you might begin to notice the positive effects of BodyTite immediately. The fat loss and skin tightening will become visible right after the procedure. Some of the healing effects will continue in the weeks following the procedure and might have some unevenness after three weeks or so. The skin and shape will begin to even out and in the 3-9 months following the procedure will become smooth again. Patients typically report that their initial results the day after the procedure as about 90% of their desired result with even more success after 9 months of healing. Following the procedure with proper diet and exercise afterward is the best way to ensure the best results for a long time forward.