Depending on who you talk to, traditional facelift surgery might not have the best reputation. Most of us can attest that we've witnessed someone at some point, whether in person or on TV, that has had some very obvious work done. But instead of admiring that "work," we found it to be the unnatural, skin-stretched, overdone look. Undesirable results such as these eventually led to the development of different surgical techniques, such as the Deep Plane Facelift, which essentially repositions the skin along with the deeper muscle layer. But Dr. Elizabeth's preferred methods for facial rejuvenation are the High SMAS Facelift or her own Signature Facelift™ for facial rejuvenation are the High SMAS Facelift or her own Signature Facelift.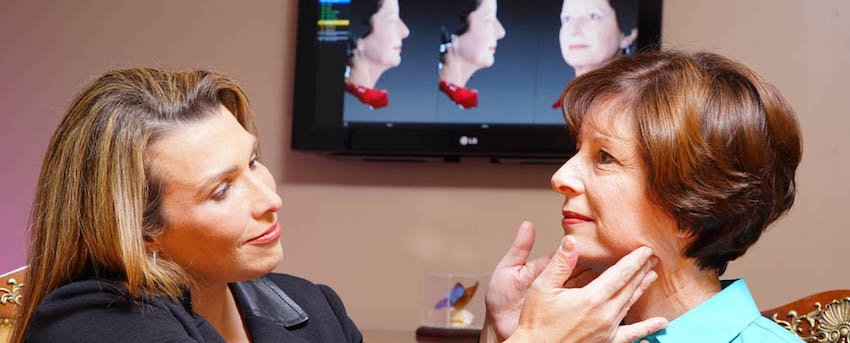 What is a High SMAS Facelift? 
The long-lasting and less-overdone results of a High SMAS Facelift compared to some other surgical facelift procedures are a major selling point for people who are looking to revitalize their facial features and turn back the clock on aging. The High SMAS (Superficial Muscular Aponeurotic System) technique helps to suspend the cheek area securely, leaving the skin and subcutaneous mass attached to the SMAS and repositioning them as one unit. By utilizing this technique, the skin is not placed under greater than normal tension, meaning that unwanted "stretched" look won't occur. Less tension also means less scarring. 
The procedure focuses more on the release and movement of muscle and fat layers of the face instead of the pull and removal of skin, resulting in a balanced and natural facial rejuvenation.
How does the High SMAS Facelifts work in comparison to traditional facelifts?
The concept of the High SMAS Facelift is to operate with the supportive SMAS layer of the face rather than just the skin itself. By addressing this layer and releasing certain ligaments that tether it to the facial structure, longer lasting results can be obtained. Because the skin is naturally elastic, it eventually stretches and begins sagging again in the years following a traditional facelift procedure. But when the SMAS layer is addressed in conjunction with the skin, patients often enjoy longer results. This is due, in part, to the SMAS layer being thicker near the ear, which allows for more stable, secure sutures.
With traditional facelift procedures, strategic incisions allow for the skin to be lifted and tightened, but the underlying SMAS layer is untouched. 
What kind of scars will I have after a High SMAS Facelift?
Yet another innovation of the High SMAS Facelift is that it's less traumatic to the superficial layers of the skin because most of the surgical work occurs at deeper level. This usually leads to less bruising, better healing, and smaller scars than with a traditional facelift. Furthermore, any visible scars gradually become imperceptible over the course of a year.
Who are candidates for a High SMAS Facelift?
There is no standard age to have a facelift procedure. Generally speaking, however, most conversations about facelift surgery are had with patients who are over the age of 50. Aside from age, men and women who are showing signs of aging in the form of sagging and drooping skin on the face and neck are usually good candidates for a High SMAS Facelift. Patients should be in overall good physical health and have a clear understanding of the surgical outcome. Dr. Elizabeth will discuss with you if the High SMAS Facelift is the right procedure for you during your free consultation.
How long does a High SMAS Facelift surgery take?
The High SMAS facelift can be completed within about two hours, but it may take anywhere from three to four hours depending on the severity of sagging/drooping. That's aside from the time needed for surgery prep and post-op recovery. 
What is the recovery time needed for a High SMAS Facelift?
For most patients, it typically takes about two weeks before regular activities can be resumed. But patients may be asked to wait six weeks before participating in any major events. Continued healing takes place over the course of about three months, which is when optimum results are usually achieved. Dr. Elizabeth will discuss all specifics on recovery time during your free consultation.
How much does a High SMAS Facelift cost?
Depending on the extensiveness of the surgery and because every face is different, the procedure can cost anywhere from $10,000 to $20,000. Specific cost and financing options will be discussed in detail during your consultation.
How does a Signature Facelift work in comparison?
Dr. Elizabeth developed this less invasive method as the next advancement in Atlanta facelift surgery to provide her patients with a more natural-looking, youthful appearance, as opposed to the sometimes over-pulled appearance of traditional facelift surgery. The Signature Facelift combines elements the Deep Plane and High SMAS Facelifts to achieve great results with fewer incisions and faster recovery time.
How do the High SMAS and Signature Facelifts improve upon traditional facelift surgery?
Shorter surgical time
Less visible surgical scars
Elevation of the cheeks and restoration of volume
More natural-looking results
Quicker recovery time
Longer lasting results
What's my next step in getting a High SMAS Facelift or Signature Facelift in Atlanta?
If you'd like to learn more about the Deep Plane, High SMAS, or Signature Facelifts, simply schedule a free consultation with our very own Dr. Elizabeth. Known as the Queen of Faces, she is one of approximately only 5% of surgeons nationwide trained in the Deep Plane Facelift procedure. Just give us a call at (678) 888-3223 and we'll set up a free consultation at a time that's convenient for you. Our knowledgeable staff will go over all details of the procedure, including financing options and realistic expectations, to make sure you're completely informed. We also offer the safety and convenience of Virtual Consultations for patients who would feel more comfortable that way. 
*Studies have not shown that Deep Plane Facelifts provide better or more long-lasting results in comparison to the High SMAS Facelift.
References:
https://pubmed.ncbi.nlm.nih.gov/30513537/
https://www.enttoday.org/article/is-deep-plane-rhytidectomy-superior-to-superficial-musculoaponeurotic-system-plication-facelift/