The popularity of Smartlipo™ is no surprise. It offers the benefits of traditional liposuction while also coagulating blood vessels to substantially reducing swelling, bleeding and other unwanted side effects. Atlanta Face & Body Center goes one step further, offering the newest technology of the Smartlipo Triplex that utilizes three laser wavelengths. Now the coagulation effects of traditional Smartlipo™ that made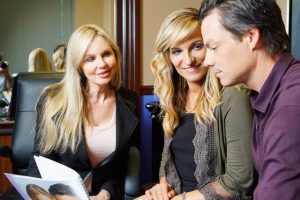 minimally invasive body contouring so popular are combined with these newer wavelengths for even more effective skin tightening.
Laser fat removal procedure
Like traditional liposuction, Smartlipo effectively removes fat cells. With Smartlipo, however, the cells are liquefied, which enables Dr. Elizabeth to more efficiently and less traumatically remove the fat cells. The patented Thermaguide system provides real time temperature readings to ensure the overlying skin is protected. Furthermore, Laser-assisted lipolysis systems create heat stimulated collagen production for smoother skin.
Quicker healing, less recovery time with Smartlipo Triplex
The recovery period is diminished because Smartlipo is a minimally invasive procedure. Patients experience less pain and see results from their surgery more quickly with a reduced time to return to work compared to traditional liposuction.  And, with the new Smartlipo Triplex  the potential benefits are maximized for skin tightening and additional contouring results.  High definition Smartlipo can also be performed to create that "six pack" look to the abs without spending hours at the gym!