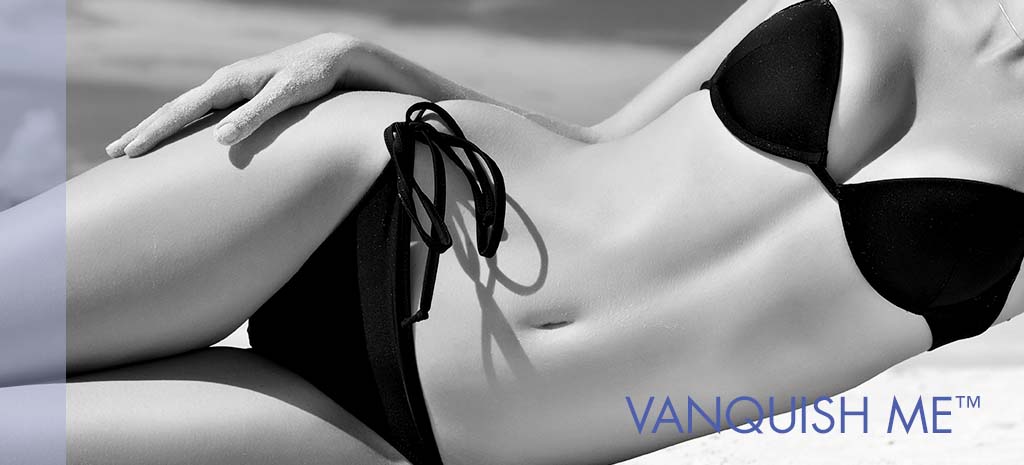 If you have areas of stubborn fat that won't go away no matter what you do, then you're certainly not alone. Many of us, regardless of proper diet and exercise, have unwanted pockets of fat that just don't seem to budge. Thankfully, there are some effective, noninvasive treatment options that can help reduce the appearance of fat and provide a welcomed boost in confidence.
Vanquish ME™ is an aesthetic breakthrough in noninvasive fat reduction. Featuring the largest treatment area capability in the industry, this revolutionary device uses radiofrequency technology to penetrate layers of fatty cells and ultimately shrink and eliminate them from the body.
How does Vanquish ME work?
Vanquish ME uses patented radio frequency to gently heat fat deposits under the skin without making any physical contact with the body. The targeted fat cells are gently heated without impacting other surrounding cells or other structures. By disrupting these fatty cells through the selective heating of adipose tissue, Vanquish ME leads to the reduction and elimination of fat cells, which in turn reduces the circumference of the abdominal area, inner/outer thighs, and other areas.
What areas of the body can Vanquish ME treat?
The adjustable panel of the Vanquish ME device can be used to treat the following areas:
Abdomen
Flanks (love handles)
Back of the waist (to address muffin top)
Bra line
Inner & outer thighs
Am I a candidate for Vanquish ME?
Vanquish ME treatments are designed for healthy individuals who want to decrease the circumference of their abdomen and thighs, regardless of their body mass index. It's a good option for those who desire improvement in the appearance of fat without the cost and recovery time needed for surgery. During your consultation, we'll go over all details of the procedure and determine if it's the best option for you.
How many treatments with Vanquish ME will I need? How long do treatments last?
Most Vanquish ME patients benefit from four treatments scheduled one week apart. Each session takes about 30-45 minutes. We'll be sure and tailor a treatment plan based on your individual needs.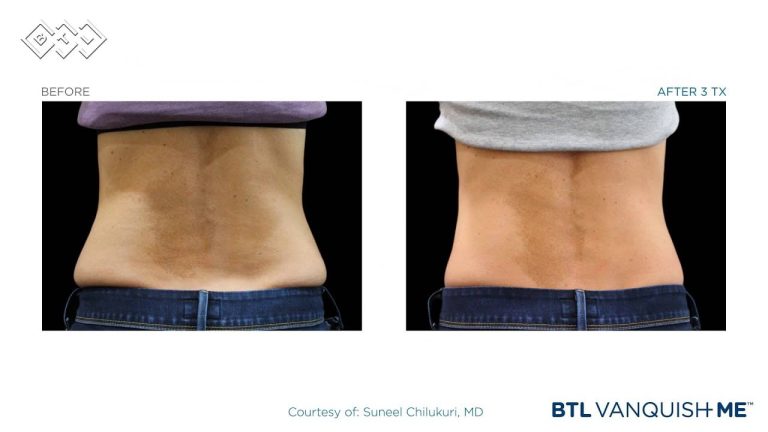 What does a Vanquish ME treatment feel like?
Your comfort is the main advantage of Vanquish ME compared to some other noninvasive body contouring treatments. Most patients typically feel a warming sensation in the treated area, which may last for a few hours following your session. This sensation shouldn't cause a disruption in your daily activities and is usually tolerated well by the majority of patients. Most people don't need any downtime after their Vanquish ME treatment.
When will I see results with Vanquish ME treatments?
Many patients report visible changes in the treatment area in as little as two to three weeks following their first treatment. That's typically when the body begins to naturally eliminate disrupted fat cells. Optimal results are usually seen in about two months.
What's my next step in getting non-surgical fat reduction with Vanquish ME in Atlanta?
To find out more about this fat-reducing procedure, schedule your consultation online or call us at (678) 888-3223. During your visit, your Atlanta Face & Body consultant will go over all details of the treatment and develop a customized plan to address your specific concerns.