"There is nothing better than coming to work every morning with an opportunity to help our clients look better outwardly and feel better inwardly."
Roseanne Warchola was born in Boston, Massachusetts and grew up getting joy out of helping people. With a kind word or gesture, it was always important to her to be a good person and give to others.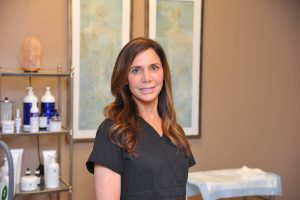 With that mantra in mind, Roseanne moved to Atlanta 26 years ago and went to massage therapy school. She worked in that discipline for 10 years and then transitioned to skin care treatments with plastic surgery practices.
Now, a licensed laser aesthetician at Atlanta Face & Body, she continues helping people every day. "I love helping people achieve their goals, whatever they may be," Roseanne states, "When they leave our office with a smile on their face due to the procedures I have performed, I feel like I've really accomplished something."
Even though she has only been at Atlanta Face & Body a short time, she already feels like part of a family. "I love working here. Dr. Elizabeth and the staff are all genuine, sincere, supportive, and professional," she explains.
Roseanne firmly believes that this is what she was destined to be doing in her life and hopes to be doing this for some time. She beams, "There is nothing better than coming to work every morning with an opportunity to help our clients look better outwardly and feel better inwardly."