I am getting older. Yeah, I know it happens to all of us but I'm at that age right now where the years start to show plus I haven't been happy with a photo taken of me in a long time. I don't want the double-chin and I need to get rid of this stubborn fat that makes me look older than I feel inside.
I was a little tense when I started investigating my options. Is this just for women? Do men get plastic surgery? Once I realized that more and more men are having their faces and bodies worked on, I relaxed a little and started getting a tad bit excited about looking better and feeling better about myself. I had a few caveats, though. I didn't want to have a lengthy recovery, so, that eliminated any surgical procedure. I didn't want to take up a whole day for a procedure and I wanted something fast, painless and effective.
I found several plastic surgeons to contact and ended up calling Atlanta Face & Body. I also found they have a stellar reputation and Dr. Elizabeth Whitaker was voted the top plastic surgeon in Atlanta last year by Best Self Magazine. So, I figured I would be in great hands.
https://www.youtube.com/watch?v=2FmDo16rHj0
Boy was I ever. From the minute, I called them, through to the end of my procedure, the staff has treated me like family. Candice Sonko, one of the Patient Care Consultants was the first person I met with and she walked me through several options I could pursue. We settled on the SculpSure® non-surgical procedure. She knew I was averse to surgery, long procedures and long recoveries. With SculpSure, this checks all the boxes. Dr. Elizabeth stopped by my consultation and she told me how SculpSure works and what I should expect if I elected to have the procedure done. Both Candice and Dr. Elizabeth were extremely courteous and patient with me and they wanted to make absolutely sure I had all the information I needed to make an informed decision.
That was it. I made my decision and scheduled my appointment for SculpSure! 25 minutes. No down time. No pain. In 6 to 12 weeks, I'll be seeing results. Leading up to my appointment, I couldn't wait to see what this whole process would be like.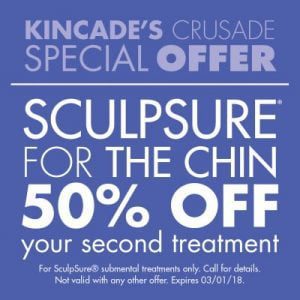 Right after I arrived at Atlanta Face & Body, I was taken back to a private room. It was their I was introduced to Meghan Scott, who was going to be administering the SculpSure treatment.
She explained, like Candice had done, the process and talked me through each step as she was beginning my treatment. I wasn't sure how it would feel but I was pleasantly surprised that it, in fact, did not hurt at all. It felt like the tiny electric pulses you feel when you wear those little machines for sore muscles. Meghan made sure I was comfortable the whole time. Before I knew it, my 25 minutes was up and I was ready to walk out the door, pain free and ready to jump right back into the day.
I'll find out in 6 to 12 weeks how successful the treatment was but if it's dependent on how professional, courteous and helpful the staff is at Atlanta Face & Body, I'm sure to become a male model. Okay, maybe not. How about just a guy who starting to look as young as he feels.