[vc_row][vc_column][vc_single_image image="5686″ img_size="large" alignment="center"][/vc_column][/vc_row][vc_row gap="30″ css=".vc_custom_1541127016014{padding-right: 10% !important;padding-left: 10% !important;}"][vc_column width="1/2″][vc_column_text]
"I had NO anxiety the day of surgery. That was a big deal to me."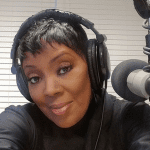 Rene Miller, On-Air Personality with Smooth Jazz 101.1 in Atlanta, had a significant injury to her jaw growing up that never healed properly. It left her with a flattened chin and jaw on her right side.
"Even though most people know me from radio, I pose for a lot of photographs and appear on television quite a bit," explains Rene Miller. "I always have to have the cameraman take my picture or shoot video from the left. It's something I've become accustomed to, but it's also something that I wanted to change about my appearance if I had the chance.
Ms. Miller sought out to address just that when she had consultations from "several" plastic surgeons. She was nervous that she was going to be involved in something more invasive than she needed. Simply put, she never felt comfortable moving forward until she met with Dr. Elizabeth.
"The moment I met Dr. Elizabeth, I knew I was going to go forward with something. She just has a demeanor about her that I trusted. It was really the total package. The staff was very nice and professional. Also, I had a minute to look at her wall of accomplishments, including her degrees and her certifications. I just felt I was in the right place."
Dr. Elizabeth performed a chin implant, neck lift, and fat transfer to achieve the results wanted by Miller. Vectra 3D Imaging was used to demonstrate the results during her consultation.
"When Dr. Elizabeth talked to me about how the procedure was going to be performed, and she used 3D imaging to show me the potential results, I simply could not wait to schedule my procedure," Rene says. "My biggest fears still were recovery time and having to use anesthesia. But, no anesthesia was needed and I was able to return to work in a week!
I cannot say enough about Dr. Elizabeth. When I first met her, it was like meeting a long-lost friend. She was very kind, was very patient with me as this is a very emotional thing and I felt 100% at ease with her. My results are everything I had dreamed of. My fiance, who's been very supportive even though he liked me how I was, remarked that I now have a chin and a jawline!
"People ask me all the time now if I've had more rest or am I working out or something," Rene laughs. "I just say 'yeah, sure.' To me, this is extra proof that I didn't go overboard and what I have is the natural me that I've always wanted. I can't tell you happy I am. And I know now why they call Dr. Elizabeth the 'Queen of Faces.' It's true!"[/vc_column_text][/vc_column][vc_column width="1/2″][vc_images_carousel images="5760,5761,5762,5763,5764,5765″ img_size="400 x 250″ autoplay="yes" wrap="yes"][vc_empty_space height="30px"][vc_column_text]
Request Consultation and Mention Smooth Jazz 101.1 and get a special gift!
[/vc_column_text][contact-form-7 id="5694″][/vc_column][/vc_row]