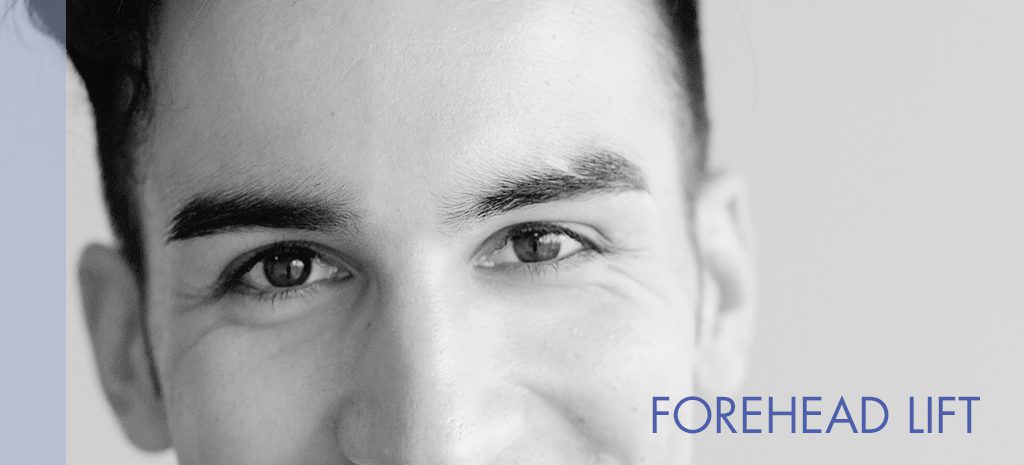 Look More Refreshed, Youthful, And Rugged With A Browlift For Men!
A man's forehead and brow region can often be one the first places where the signs of aging show up. The effects of gravity along with consistent facial expressions over time lead to wrinkles and deep creases across the forehead, drooping of the brows and upper eyelids, and unsightly grooves between your eyebrows. Unfortunately, even men as young as their 30s can experience these unwanted effects. That said, men of various ages have opted for some form of a forehead or browlift procedure to regain a more youthful look and an added boost in confidence.
At Atlanta Face & Body, Dr. Elizabeth offers several options for both surgical and nonsurgical forehead/brow rejuvenation designed to treat varying degrees of facial aging in men.
What are the forehead/browlift options available at Atlanta Face & Body?
First, let's highlight the nonsurgical options that can offer noticeable improvement in the look of your forehead and brow areas.
– These popular neurotoxins help alleviate forehead creases quickly and effectively by preventing the muscle contractions that cause them to form in the first place. After injections, the muscles become relaxed at the treatment area, temporarily reducing or eliminating wrinkles and providing a smoother appearance for up to 3-4 months.
– This minimally invasive microneedling device harnesses radiofrequency energy to revitalize the skin of the forehead region. It's the first and only FDA-cleared technology to provide deep subdermal adipose tissue remodeling. What that means is it penetrates the deeper layers of the skin and fat to boost collagen and elastin production to promote a smoother, more youthful appearance that often lasts for a year or more.
Vivace®
– Vivace is an FDA-cleared microneedling device the uses 36 tiny, insulated needles to gently distribute heat into the skin. This process stimulates your body's own collagen and elastin production to encourage a gradual tightening effect of the brow and forehead. Most men who elect this revolutionary treatment experience results that last for several years, though that will vary depending on the number of treatments. Patients who opt for routine touch-ups often enjoy long-term results.
Ultherapy®
– Ultherapy effectively revs up collagen production by way of focused ultrasound energy that addresses not only the outer layer of skin but also the foundation layer underneath. The ultrasound energy triggers a natural response under your skin, jumpstarting the regenerative process that produces new collagen. It's that ample production of collagen that provides noticeable lifting and tightening of the brow and forehead that occurs gradually over two to three months and lasts up to a year or more.
Some of these nonsurgical procedures provide a "lifted" effect to the brow and forehead, while others essentially smooth the creases in the area. Since every treatment is customized to the individual patient, our knowledgeable consultants will discuss the different options for brow/forehead lifting during your consultation and explain the advantages of each in detail to help you choose the best one for you.
What are the surgical options available for forehead and browlifting?
If it's determined that surgery is the best route to meet your personal aesthetic goals, Dr. Elizabeth will thoroughly discuss your options with you and tailor a treatment plan to provide the best possible outcome. She does so with a variety of incisions and procedures. Some involve minimal incisions and primarily elevate the lateral brow, which causes hooding of the eyes. Other procedures may lift the entire forehead to diminish frown lines, smooth the skin, and even lower a high hairline. Whichever procedure is determined to best suit you, Dr. Elizabeth makes it her priority to focus on creating a natural look while balancing your other features through facial harmonization.
Who is a good candidate for a browlift?
Generally healthy men who are concerned with lines and wrinkles on their forehead or frown lines between their eyebrows are often good candidates for a browlift procedure. We'll go over more details during your private consultation about the available procedures to help you determine exactly which one will be the best option for you. Before carrying out any treatment plan, Dr. Elizabeth and her staff will perform a thorough evaluation to ensure you're well informed and have clear expectations.
What recovery time is needed with a forehead/browlift?
With so many different procedures available, recovery times can vary significantly. As a general rule of thumb, Botox, Morpheus8, and Ultherapy don't typically require any downtime. Most men return to their normal activities immediately following their treatment. With Vivace, most patients resume their daily activities within about 24-48 hours.
As for any of the surgical procedures requiring incisions, recovery may take several weeks, with no work or other strenuous activity recommended for the first few days. Dr. Elizabeth will go over all details of necessary recovery time depending on your chosen procedure at your private consultation.
What results can I expect from a forehead/browlift?
Just as with recovery, your results will depend on which treatment option is determined to be best for you. Our noninvasive treatments are wonderful for smoothing lines and wrinkles and even providing a slight lifting effect to the forehead and brow, while surgical procedures can deliver anywhere from subtle tightening up to more dramatic transformations based on your desires. All that will be discussed at your private consultation.
What's my next step to a forehead/browlift for men in Atlanta?
We invite you to learn more about the transforming benefits of our forehead/browlift techniques and the wonders they can do for your self-confidence. Schedule a private consultation at Atlanta Face & Body by calling us at (678) 888-3223 or clicking here to schedule your appointment.