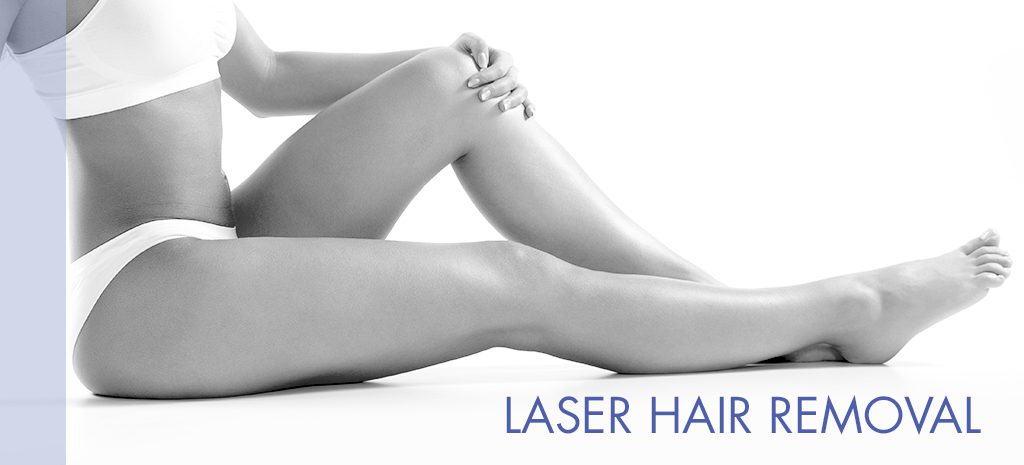 Gentle laser technology helps make shaving a thing of the past.
Laser hair removal is all the rage for people who've had enough of shaving, plucking, or waxing away unwanted hair. By utilizing cutting-edge, nonsurgical laser technology, you can say goodbye to unwanted hair and streamline your beauty regimen in ways you never thought possible.
What areas can be treated with laser hair removal?
Virtually any area of the body where unwanted hair grows can be treated. The most common areas include:
Chest
Bikini line
Upper lip
Chin
Back
Legs
Arms
Underarms
How does laser hair removal work?
We use a device called the Cynosure® Elite+™, which uses a dual-wavelength system that delivers a reliable treatment for laser hair removal. It works by beaming highly concentrated light into the hair follicles while leaving the surrounding skin untouched. The pigment in the follicles absorbs the light, which destroys the hair in the process.
Am I a candidate for laser hair removal?
People of all skin types and ethnicities who have unwanted hair can benefit from this treatment. The technology is extremely versatile and has been proven effective on all skin types through multiple clinical studies. To find out if you are a candidate, call us at (678) 888-3223 to schedule your consultation.
How long does the treatment take, and how many sessions are needed for best results?
The length of time depends on the size of the treatment area. Typically, it takes between four to eight treatments to achieve maximum results for most patients in a specific area.
Are there any side effects? Does laser hair removal hurt?
A topical anesthetic is typically used for smaller treatment areas to minimize discomfort. There may be some redness in the treatment area following the procedure for a day or two (much like a mild sunburn), but this is only temporary. Most patients resume their daily activities the same day following their treatment. Blisters are very rare but have been reported, especially in people with darker complexions. However, in addition to the topical anesthetic, an air-cooling system built in to the device improves comfort and safety, making the experience more comfortable.
How much does laser hair removal cost in the Atlanta area?
The cost varies widely, depending on factors that include the size of the treatment area and the number of treatments needed to obtain best results. Dr. Elizabeth will discuss the cost with you depending on your specific needs at your consultation.
What's the next step?
Call us today at (678) 888-3223 to set up your consultation with Dr. Elizabeth. She will discuss the procedure in detail and determine if laser hair removal is the best option for you.