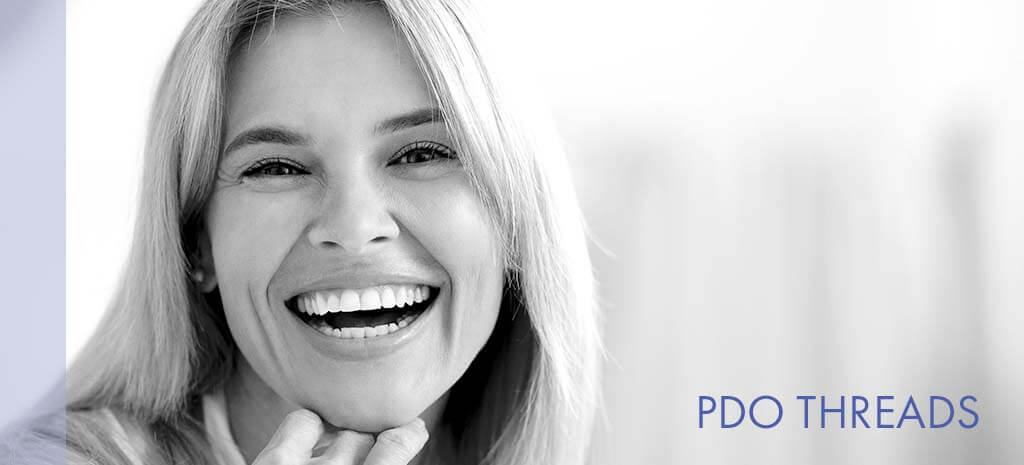 Instant, natural-looking lifting and tightening of the skin without surgery.
The aging process and what it does to our delicate skin can often leave a lot to be desired. When you factor in your genetics, certain health conditions, lifestyle habits, and/or constant unprotected exposure to the sun along with natural aging, unwanted effects to the skin can manifest in major "not-so-pretty" ways. Fortunately, there is an increasingly popular minimally invasive treatment available that is producing amazing rejuvenating results – MINT™ PDO threads. MINT (minimally invasive nonsurgical thread) PDO (polydioxanone) threads have rapidly become a popular alternative to a surgical facelift.
As a matter of fact, threads have successfully been used for decades for other medical purposes, such as suturing surgical incisions or treating certain gynecological disorders. But threads have more recently been perfected to provide safe, effective lifting and tightening of the skin for those who don't want or who aren't yet ready for a surgical facelift.
How do PDO threads work?
When in the hands of a skilled provider, like Dr. Elizabeth at Atlanta Face & Body, PDO threads result in instant skin lifting and tightening through the use of strategically placed barbed, hair-thin threads inserted into varying depths of the skin. The threads are then gently pulled to achieve the lifting effect while the excess thread lengths are cut off. Treatment not only provides instant lifting but also stimulates your body's natural collagen production to rejuvenate your skin at a cellular level. The results are often enhanced skin texture, fewer fine lines and wrinkles, and increased elasticity for a more youthful, glowing appearance that can last up to 2 years.
What can PDO threads be used to treat?
PDO threads are so versatile that they can effectively address mild to moderate signs of aging in the form of:
Crow's feet
Undereye wrinkles and hollowing
Undefined jaw line
Jowling
Nasolabial folds
Drooping eyebrows
Marionette lines
Loss of volume in the cheeks
Neck laxity/lines
Who is a candidate for PDO threads?
People who are in generally good health and who are displaying earlier signs of aging (fine lines, wrinkles, or mild skin laxity of the face) may be good candidates for a PDO thread lift. Ideal candidates are usually those who want a subtle, instant lifting of the face but aren't yet ready to commit to a traditional facelift procedure. Furthermore, threads patients are typically between 30 and 65 years old.
What can I expect during a PDO thread treatment?
First, we'll apply a topical numbing agent and local anesthetic to the desired treatment area to help ensure your comfort during treatment. Then the threads are carefully inserted via cannulas (blunt-tipped needles) and very gently pulled to lift the skin upwards. The tiny barbs on the threads anchor them in place once the desired lifting is achieved. Excess threads are then cut off. The whole procedure takes only about 15-30 minutes from start to finish, which our busy patients love.
Is there any downtime needed after a PDO thread treatment?
Another thing our patients really enjoy about threads is that there is minimal recovery time needed following treatment. Most people return to work and their normal activities the next day. Common side effects do include minor inflammation and bruising, but these are typically mild and resolve within a week. Dr. Elizabeth and her staff will go over everything you can expect at your private consultation.
What are the results I can expect from PDO threads?
The desired lifting effects from PDO threads are most often visible immediately following treatment. Optimal results, however, usually appear within about 1-2 months. That will depend quite a bit on your age, however, as it's one of the leading factors in how quickly your body produces new collagen. The length of time your more refreshed appearance lasts depends on factors such as the thickness of the threads and your individual metabolic rate. Most threads completely dissolve in about 6-9 months after insertion, but the lifting effects often last up to 2 years due the production of new collagen.
Are PDO threads safe?
MINT PDO threads are FDA-cleared for safety and often include a lower risk of complications than other more invasive lifting procedures. There's also less risk of scarring, bleeding, or severe bruising with a PDO thread treatment.
What's my next step in getting PDO threads in Atlanta?
If you're ready to address the signs of aging head-on with MINT PDO threads, then give us a call at (678) 888-3223 to set up a consultation at a time that's convenient for you. We'll go over all details of the treatment to make sure you're completely informed and it's best to meet your beauty goals.