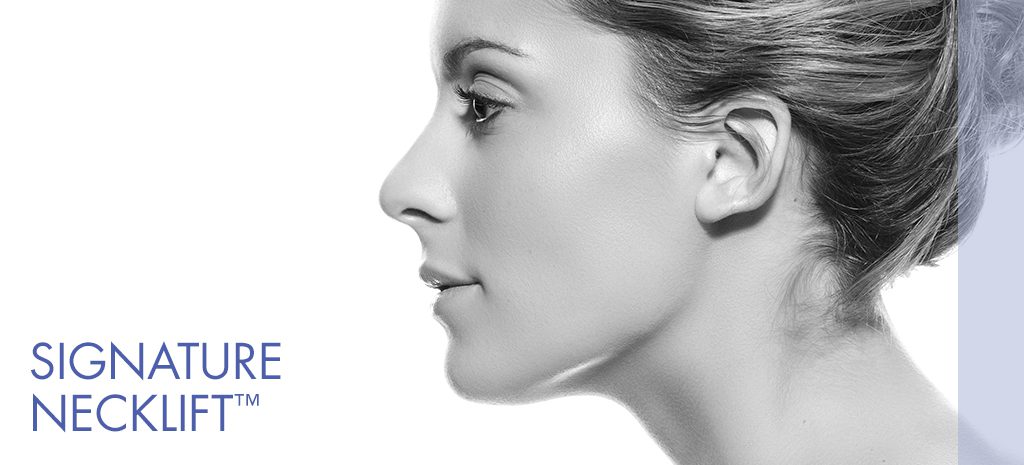 If loose skin on your neck is a concern, Signature NeckLift™ may be the solution you've been searching for.
All too often, the neck is the first area of the body where skin elasticity starts to relax, causing a loosened, prematurely aged appearance. If this is something you're self-conscious about, Dr. Elizabeth's Signature NeckLift™ is an exciting option to consider. Men and women alike can benefit from this specialized technique. Regain a more youthful appearance on your neck and hold your head up high.
How does the NeckLift procedure work?
Dr. Elizabeth utilizes very short incisions located primarily behind the ears and under the chin. This makes it possible to address the signs of aging specifically in the neck. It also means that any scars will be well hidden. The procedure is designed to gently tighten the loose skin by removing excess tissues to provide a firmer, more youthful appearance with less downtime than more invasive surgery.
How long does NeckLift surgery take? Is it painful?
Depending on the extent of the surgery and your individual needs, the procedure can take a little over an hour. Performed with a combination of mild anxiolytics and local anesthesia or with IV sedation, most patients experience little discomfort.
Am I a candidate for a Signature NeckLift in Atlanta?
If you've noticed some loosening of the skin on your neck and some mild jowling around your jawline, then a Signature NeckLift could be the right option for you. However, not everyone is a candidate as significant facial sagging may be better addressed with a Signature Facelift™ instead. Dr. Elizabeth will evaluate your personal rejuvenation goals and likely introduce multiple options, both surgical and non-surgical depending on several factors, including the severity of your condition and your budget. The best way to find out if the procedure is right for you is to schedule your consultation.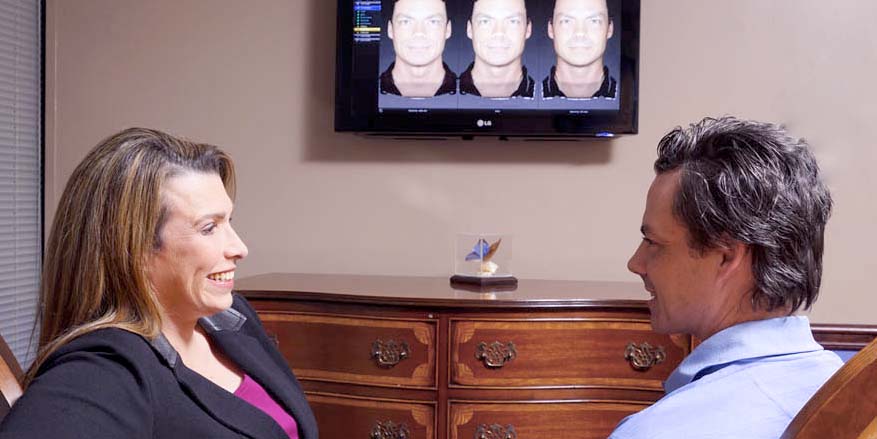 Are there any risks involved with the procedure?
Any surgical procedure has the potential for risks. Some of those included with a Signature NeckLift are:
bleeding
discomfort
infection
nerve injury
scarring
swelling
Dr. Elizabeth and your consultant with Atlanta Face & Body will thoroughly explain each of these risks during your consultation. Through our years of experience, we have developed techniques shown to be less invasive with less recovery time needed. Though no surgical procedure is ever completely risk free, our techniques help to minimize complications and allow for faster healing.
What is the recovery like and what results can I expect with the NeckLift procedure?
Some swelling and bruising are likely after a Signature NeckLift, but much of it will diminish within the first few weeks following surgery. Once the swelling and bruising subside, you will notice a firmer, tighter appearance to your neck and jawline. Dr. Elizabeth will explain all you need to know, including expected outcomes, during your consultation.
What's the next step in getting a Signature NeckLift in Atlanta?
Simply give us a call at (678) 888-3223 and we'll set up a consultation (either in-office or virtually) with Atlanta Face & Body at a time that's convenient for you. We'll go over all details of the procedure, including financing options and realistic expectations.