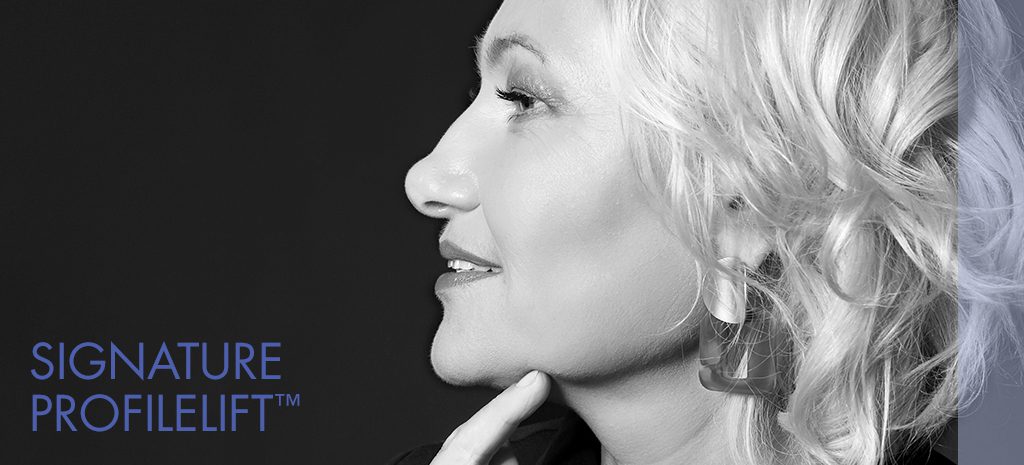 Add more definition to your social media profiles with Dr. Elizabeth's Signature ProfileLift™ Facelift.
If you have a double chin or jowling along your jawline, then the thought of having some kind of cosmetic procedure may have crossed your mind at some point. While jowling is often associated with lost facial volume that causes skin to sag as a result of aging, double chins often have little to do with a person's age or even their weight. Double chins can simply be the cruel result of genetics in a lot of cases. In fact, Dr. Elizabeth has treated many young, fit patients with this condition, resulting in her exclusive Signature ProfileLift™ becoming one of our most popular procedures.
By combining liposuction with the latest advancement in laser technology to boost additional skin tightening, this combination of procedures optimizes the improvement of the neck and profile with fewer and smaller incisions as compared to more typical facelift surgery. The innovative Signature ProfileLift is offered to Atlanta area residents only at Atlanta Face & Body.
How does the ProfileLift work?
Dr. Elizabeth developed the ProfileLift technique to be an almost "incisionless" procedure. Access points are created under the chin and typically at the base of the earlobes for a less invasive option for contouring the jawline. Radiofrequency energy precisely targets the smaller volumes of excess fat or skin under the chin, both breaking up the fat and tightening the loose skin in the process. The result is a more defined, youthful-looking profile.
How do I know if I'm a candidate for a ProfileLift?
Healthy patients aged 20 to 60 with excess fat under the chin who wish to improve the look of their profile typically are great candidates. Dr. Elizabeth will evaluate your own desired outcome and likely introduce multiple options, both surgical and non-surgical depending on several factors, including the severity of your condition, work schedule, and your budget. The best way to find out if the ProfileLift is right for you is to schedule your consultation at Atlanta Face & Body.
What sort of recovery time is needed with a ProfileLift?
The Signature ProfileLift can usually be performed in less than an hour. For the first few days of recovery, you'll wear a compression bandage over the treated area. You may experience some swelling, bruising, and discomfort in the area following the procedure, but these diminish in as little as a week. Dr. Elizabeth may prescribe antibiotic ointment to apply to any incision areas, and it is recommended that you avoid sun exposure or getting excessive amounts of water on the face and chin for a few days. Most patients return to work in just a few days to a week.
What kind of results can I expect from a ProfileLift?
After the swelling and bruising subside, you will likely notice a much more defined profile with a tighter appearance under your chin and along your jawline. Barring any excess weight gain, the results are permanent. Dr. Elizabeth will explain all you need to know, including expected outcomes, during your consultation.
Are there any risks with the procedure?
Any surgical procedures have the potential for risks. Though unlikely, some risks with a ProfileLift may include:
bleeding
decreased skin sensitivity
discomfort
asymmetry
infection
nerve injury
scarring
swelling
Dr. Elizabeth and your consultant with Atlanta Face & Body will thoroughly explain each of these risks during your consultation. Through our years of experience, we have developed techniques shown to be less invasive with less recovery time required. Though no surgical procedure is ever completely risk free, our developed techniques help to minimize complications and generally allow for faster healing.
What's the next step in getting a ProfileLift in Atlanta?
Just give us a call at (678) 888-3223 and we'll set up a consultation with Atlanta Face & Body at a time that's convenient for you. Our staff will go over all details of the procedure, including financing options and realistic expectations, to make sure you're completely informed. We also offer the safety and convenience of Virtual Consultations for patients who would feel more comfortable that way.