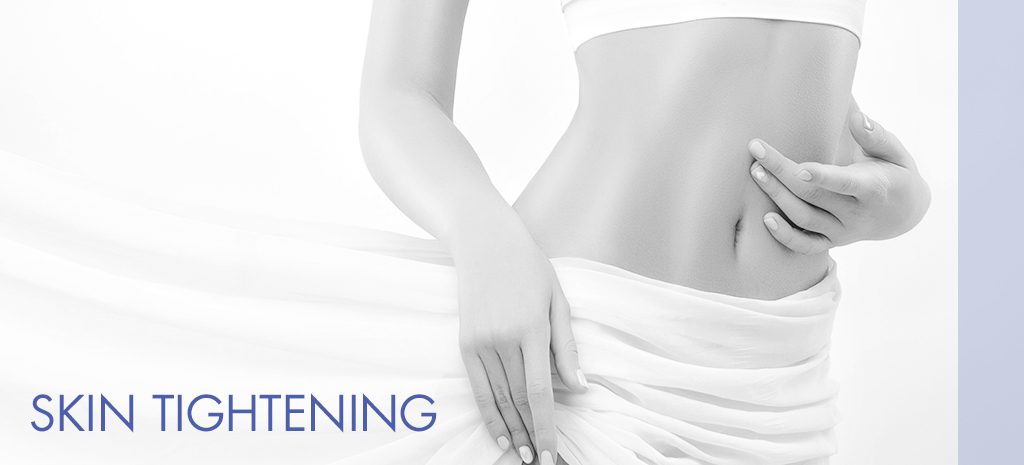 Skin tightening offers a quick, non-surgical way to tighten skin for a younger look!
Skin tightening includes popular treatment options that help achieve younger-looking skin without surgery or downtime. This technology gently heats the skin to stimulate collagen and elastin, the building blocks of firm, youthful skin. Your skin's texture can be greatly improved with one of our popular skin tightening options – Ultherapy®, Morpheus8, and Vivace®.

Am I a candidate for a skin tightening treatment in Atlanta?
You could be a candidate for skin tightening if you have loose skin that doesn't respond to diet or exercise. Treatment of lax abdominal skin can be part of a nonsurgical Mommy-makeover. Crepey skin of the arms and knee areas are a common complaint as we age.  When you schedule your consultation, Dr. Elizabeth and her staff will go over all available treatment options in detail, assess your goals, and help you determine which is right for you.
There's more than one option for non-surgical skin tightening!
At Atlanta Face & Body, we feature three very effective means of skin tightening treatments. Read on to learn more about these effective options or click the links for each treatment for even more in-depth information.  
Ultherapy stimulates collagen production by delivering focused ultrasound energy not only to the dermis of the skin but to the foundation layer (SMAS) underneath as well. This ultrasound energy triggers a natural response under the skin, jumpstarting the regenerative process that produces fresh, new collagen, which results in lifting and tightening of tissue. While Ultherapy won't duplicate the results of a surgical facelift, it is a clinically proven, non-invasive alternative with no incisions or other disruptions to the skin. The ultrasound energy can be used on all skin types.
Morphheus8 is a minimally invasive microneedling device that utilizes radiofrequency energy to revitalize the skin of the face and body. It's the first and only FDA-cleared technology to provide deep subdermal adipose tissue remodeling. Basically, this fractional treatment penetrates the deeper layers of the skin and fat to boost collagen and elastin production to promote a smoother, more youthful appearance.
Vivace uses 36 tiny, insulated needles to gently distribute heat into the skin. The heat stimulates your skin's natural collagen and elastin production to promote a tightening effect. FDA-cleared Vivace is one of the most precise radio frequency microneedling devices currently available on the market, with 31 adjustments at very small increments to fit a variety of skin types and conditions.
Does skin tightening treatment require any recovery time?
Because these procedures are non-surgical, little to no downtime is needed following your treatment. Most people can resume most activities immediately after the procedure. We'll go over all details of what you can expect following your skin tightening treatment during your consultation.
What results can I expect with these skin tightening treatments?
Each nonsurgical skin tightening treatment available at Atlanta Face & Body generally presents improvement in skin's appearance within a few days after treatment, with progressive results over the course of several weeks and typically lasting for 6 months to a year. Multiple treatments may be recommended to achieve optimum results. 
What's my next step in getting a skin tightening treatment in Atlanta?
Call us today at (678) 888-3223 or click here to schedule your consultation. We'll conduct a thorough skin evaluation and go over all the details to determine which treatment is right for you or if you'd be better served by one of our many other treatment options.