Get tighter, more youthful-looking skin with Vivace® RF Microneedling!
One of the latest advancements in skincare technology at Atlanta Face & Body is Vivace® RF Microneedling! Vivace's highly precise, minimally invasive system stimulates the skin's natural production of collagen and is shown to effectively reduce facial wrinkles and fine lines while tightening and toning the face and neck.
How does Vivace Microneedling work?
FDA-cleared Vivace uses 36 tiny insulated needles to painlessly distribute heat into the skin. This heat stimulates your skin's natural collagen and elastin production to promote a tightening effect. Vivace is the most precise radio frequency microneedling device currently available on the market, with 31 adjustments at very small increments to fit a variety of skin types and conditions.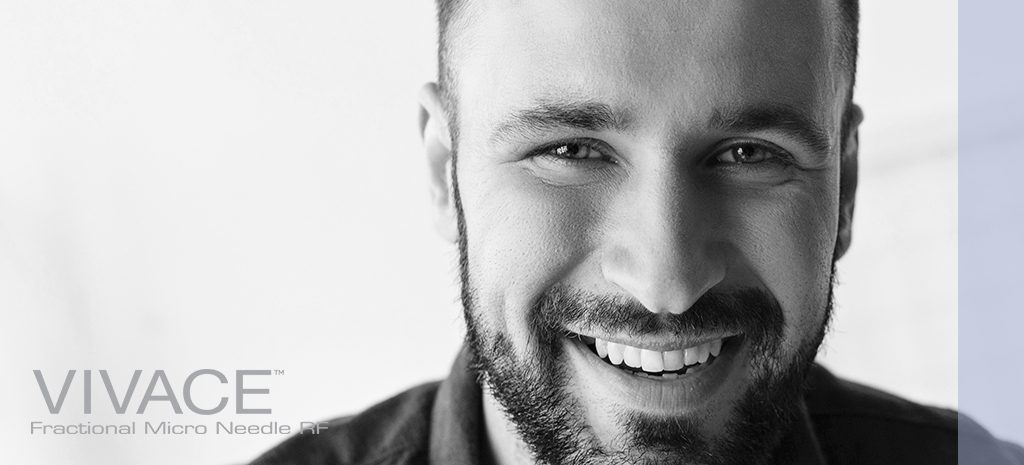 What are the benefits of treatment with Vivace?
Patients who get treatment with Vivace can expect the following skin-revitalizing benefits:
Reduced Wrinkles & Fine Lines
Tightened Skin
Minimized Pore Size
Improved Skin Tone & Texture
Minimal Downtime
Virtually Pain-Free
Am I a candidate for Vivace Microneedling?
Though Vivace is designed to benefit all skin types and tones, ideal candidates for treatment are generally healthy individuals with mild to moderate skin laxity of the face or neck, such as sagging, loose skin, deepening facial lines and wrinkles, or jowling. Adults of all ages can benefit from treatment, whether it be for a means of "pre-juvenation" in your 20s and 30s or to address early signs of aging in your 40s. And, of course, patients with more advanced signs of aging in their 50s, 60s, and 70s can benefit from Vivace microneedling as well. Ultimately, anyone seeking smoother, tighter, and younger-looking skin with minimal downtime may be a good candidate. Vivace is also very effective at treating acne scars. We recommend a consultation with the staff at Atlanta Face & Body to determine if Vivace is the best treatment option for you.
Does Vivace Microneedling hurt?
A numbing cream is typically applied 30 to 45 minutes before your treatment to ensure a comfortable patient experience. Many of our patients say they found the treatment to be in a range of comfortable to virtually pain-free. The majority of patients describe a feeling of light pressure with an occasional warming sensation. Others report a feeling of minor prickling. These sensations are generally tolerated very well.
What is recovery like with Vivace?
After a Vivace treatment, the microchannels that the device creates in the skin remain open for up to six hours. This allows special serums to be fully delivered and absorbed throughout the treatment area.Vivace treatment results in minimal redness and swelling from the radiofrequency heat. Downtime is typically minimal, and most patients return to their normal activities the next day following treatment.
What's my next step in getting Vivace RF Microneedling in Atlanta?
Learn more about the skin-rejuvenating power of Vivace Microneedling by scheduling a private consultation. Call us at (678) 888-3223 today. We will go over all details of the treatment and develop a customized plan to address your specific concerns.