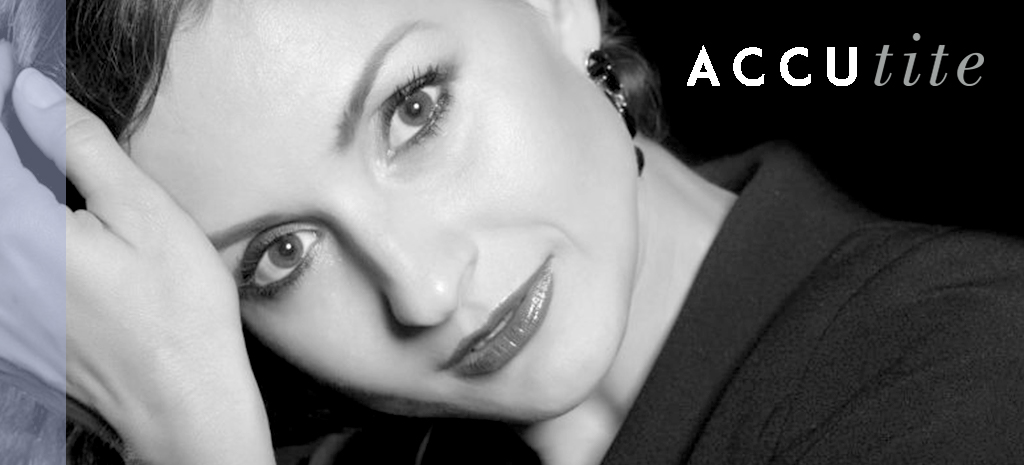 For Pinpoint Accuracy. Reduce the fat. Tighten the Skin.
AccuTite is a high-precision procedure that uses the same radio-frequency technology as our BodyTite and FaceTite procedures. AccuTite uses a smaller RF wand and was created to concentrate on very specific areas of the face and body, using minimally-invasive surgical techniques for fast recovery.

AccuTite is designed to improve:
Face
Brow: Correct sagging brows and that "angry" look.
Periorbital Areas: Above and below the eye. These are the first places to show aging.
Nasolabial Fold: Your "laugh lines" are an indication of aging and they can be minimized.
Lower Face: Get rid of sagging areas or lines.
Neck: Sagging skin can detract from your face. AccuTite can correct it.
Body
Axilla Bra Fat: Also known as armpit fat, this is hard to get rid of with exercise or diet.
Upper Arms: Sagging can occur for both men and women. AccuTite can improve it.
Hands: Wrinkles show again, and this can be corrected.
Abdomen Etching: Correct small problem areas.
Inner Thigh: Get rid of sagging for a more toned look.
Knees: Stretching takes its toll on the knees. AccuTite can restore a younger look.
How Is The AccuTite Procedure Performed?
AccuTite is performed using the smallest minimally-invasive radio-frequency contraction device available. Dr. Elizabeth will create a very small incision in an obscure location in order to insert the AccuTite device. Dr. Elizabeth will gently move the device throughout the targeted area allowing the technology to treat the tissue and skin. The technology used is called RFAL (Radio-Frequency-Assisted Lipoplasty). RFAL liquefies fat under the skin which is continually removed through the device. At the same time, the radio frequency waves generate very carefully-controlled heat to stimulate the production of collagen. Collagen naturally tightens and firms skin, giving it a younger look. AccuTite is typically performed with local anesthesia and is associated with minimal discomfort.
Because the AccuTite wand is small, it requires only small openings in the skin, and it can be positioned very precisely to treat only the area needed. In most cases, the procedure is done in under an hour.
Are You a Candidate for The AccuTite Procedure?
AccuTite is generally for men and women 18 years of age or older. It is designed to treat very specific areas, so results are focused on those areas of the face and body. It is especially suited for making small adjustments that can have a significant impact on your appearance and confidence.
As in all cases at Atlanta Face & Body, Dr. Elizabeth and her staff will discuss the procedure in detail with you in advance, and evaluate you to see if this procedure will help you accomplish your appearance goals. You then make your own decision about what will work best for you.
What Is The recovery time For AccuTite?
Recovery time is rapid after an AccuTite procedure because of its minimally-invasive nature. Patients typically leave the office to go home about an hour after the procedure is complete. Depending on the part of the face or body that's treated, clients may need to wear a compression garment for a few days. If not, clients can probably resume normal activities after a day or two.
Because AccuTite is designed to treat targeted areas of the face and body, it can offer advantages over other procedures with a faster, easier recovery period.

AccuTite Results
Because everyone is different, expected results can vary. Prospective clients can learn more about their expected results through a consultation with Atlanta Face & Body. For most, however, AccuTite treats smaller areas and results can be visible immediately after the procedure. Moreover, contours are more defined and skin is smoother immediately and will continue to reveal for the next 6 months and usually discontinue after 12 months.
Private AccuTite Consultation
At Atlanta Face & Body, we take great care to make sure you have all the information you need about any procedure you may consider with us. This is why Atlanta Face & Body recommends a private consultation to review the AccuTite procedure and other options to discover which choice is best for you. Our staff will explain how the procedure is administered, how to prepare, how to manage post-procedure recovery and discomfort, and the expected length of your recovery time. We also give you an idea of the outcome you can expect. We answer all your questions, taking all the time necessary to make you feel comfortable with your decision.
Your consultant works with you one on one to help you look at all potential options. You'll come away knowing what to expect and everything you need to do to get the best possible results from your procedure.
CLICK HERE to schedule your personal consultation. Or call (678) 888-3223.