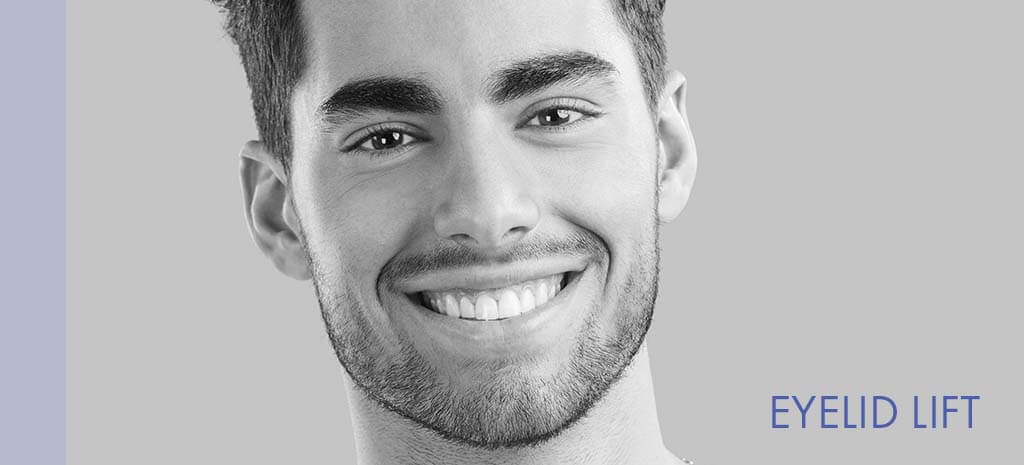 Look Younger And More Refreshed With An Eyelid Lift For Men.
Over time, the skin of your eyelids stretches and the muscles supporting them begin to weaken. As a result, excess fat may gather above and below your eyelids, causing droopy upper lids and unsightly bags beneath your eyes. Even younger men may experience these unwanted effects due to genetics. Either way, the delicate area around the eyes can be a source of self-consciousness for men at any age, leaving many of them to elect blepharoplasty as an effective solution.
Other than the obvious cosmetic effects, skin above the eyes that is substantially sagging can actually reduce your peripheral vision (side vision). Blepharoplasty can greatly reduce or even eliminate this type of vision impairment while helping you look younger and more alert.
Having performed thousands of these procedures, Dr. Elizabeth has solidified her place as a leading provider of blepharoplasty for men in Atlanta and the southeast.
What is blepharoplasty?
Blepharoplasty is a type of eyelid surgery in which excess skin and fat is removed from the eyelids for the purpose of rejuvenating your appearance or improving your field of vision. Blepharoplasty can involve both the upper and lower lids, though the upper lids are the most common. Blepharoplasty can be performed solely for cosmetic reasons to provide a more youthful appearance by diminishing puffiness and bags, or the surgery can be done to improve one's vision by removing obstructing tissues.
Am I a candidate for blepharoplasty?
If you're a man who desires to reduce sagging skin above or below your eyes, have a younger, more "alert" look, or improve your field of vision by removing obstructions, then blepharoplasty may be a good option for you. Ideal candidates are adult men who are in generally good health and have realistic expectations for surgery. Furthermore, blepharoplasty can offer a solution for men experiencing:
Droopy or sagging upper eyelids
Excess skin (upper lids) that partially blocks peripheral vision
Excess skin of the lower lids
Bags under the eyes
It's important to note that blepharoplasty will not improve dark circles, fine lines and wrinkles around the eyes, or sagging eyebrows. These conditions can effectively be addressed through various alternative procedures, however. If that's the case, Dr. Elizabeth may recommend her Signature Lift™ Facelift for Men, or other treatment to address these concerns. We'll go over all your available options at your private consultation.
How is blepharoplasty performed?
During an upper eyelid lift, Dr. Elizabeth will make an incision in the creases of your upper lids to minimize visibility of  any scarring as much as possible. She will then remove excess fat, skin, or muscle to provide a more refreshed look before suturing the incisions. In lower eyelid surgery, the incision is made in an inconspicuous site along the lash line and smile creases of your lower lids. Incision can also be made inside the lower eyelid if only excess puffiness due to fat pads is the main concern. Dr. Elizabeth will then carefully remove or redistribute excess fat, muscle, or sagging skin before sealing the incisions.
Under normal conditions, blepharoplasty typically takes about an hour to perform. Afterwards, you will spend a little time in a recovery room to ensure there are no complications. Then we'll send you home to recuperate with detailed instructions on proper post-surgical care. You will need to schedule a driver to take you home following your procedure.
What is recovery like from blepharoplasty?
Believe it or not, the skin of the eyelids heals remarkably quickly, and scars are usually inconspicuous once complete healing has taken place. Bruising and swelling are common side effects but generally begin to subside in 10-14 days. Around that time is when most men feel comfortable going back to their normal routine.
We recommend patients regularly ice the area for several days following surgery to help reduce swelling and discomfort and avoid any strenuous activities for at least a week. During the healing process, be sure to protect the delicate skin in the treatment area from too much sun exposure. We will thoroughly discuss all details of your post-operative instructions at your appointment to help ensure your recovery is as comfortable and productive as possible.
What results can I expect from blepharoplasty?
Blepharoplasty produces an enhanced, pleasing look for most men without making you look like you've "had work done." Many men express satisfaction with the results of blepharoplasty, such as a more rested and youthful appearance and resulting boost in confidence. For some men, the results of their blepharoplasty may last a lifetime, while droopy eyelids may recur later down the road for others. We'll go over all the details of what to expect during your private consultation.
What's my next step in getting blepharoplasty in Atlanta?
If you're ready to have a more refreshed, younger-looking appearance around your eyes, then give us a call at (678) 888-3223 to learn more about this game-changing treatment option or click here to book online. We'll set up a private consultation at a time that's most convenient for you and go over all the details of the procedure and determine if it's best to meet your aesthetic goals.