Dr. Elizabeth Whitaker, Top Atlanta Plastic Surgeon*
Elizabeth Whitaker, M.D., F.A.C.S., loves being a plastic surgeon in Atlanta because she loves making a difference. "It's so gratifying to see patients suddenly take renewed pride in their appearance. When I see the confidence, the empowerment, that new outlook on life, I'm reminded, 'this is why I do what I do.'"
Not a choice, but a "calling."
Growing up in North Carolina, Dr. Elizabeth wasn't thinking about becoming one of Atlanta and the nation's top facial plastic surgeons. However, her early fascination with science led her to contemplate being a doctor from an early age. She attended high school at the prestigious North Carolina School of Science and Mathematics for students gifted in those areas. She then majored in Biology at Davidson College where she selected Phi Beta Kappa and graduated Magna Cum Laude. While medical school had always been a goal, she thought hard about the long commitment and the grueling years of intense study.
"I tried to talk myself out of it,' she explains with a smile, "but I realized that it was a calling rather than a choice. I wanted to help people in a very direct, personal way that utilized my talents. I couldn't imagine doing anything else."
A world-class medical education
Dr. Elizabeth was accepted at the world renowned Duke University School of Medicine where she received her Doctorate of Medicine. It was here that she was drawn to a career in plastic surgery. "The head, neck, and facial anatomy is the most complex in the body," says Dr. Elizabeth. "I find facial plastic surgery to be the ultimate fusion of artistry and technical skill. It's just so gratifying to use your training and experience to make such a positive difference in people's lives."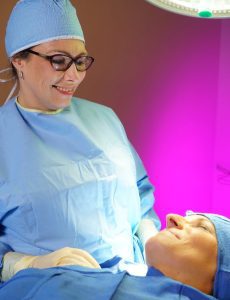 Next was residency training at Atlanta's prestigious Emory University, in the very competitive field of Otolaryngology-Head and Neck Surgery and Facial Plastic Surgery. To further enhance her knowledge and skills, Dr. Elizabeth was off to New Orleans for an additional year of advanced Fellowship training at Tulane University, focused exclusively on Facial Plastic Surgery. This very competitive fellowship is offered to only 38 candidates internationally each year. Under the guidance of Dr. Calvin Johnson, Jr., one of the world's premier Facial Plastic Surgeons, Dr. Elizabeth honed her craft.
Returning to Georgia, Dr. Elizabeth joined the faculty at the Medical College of Georgia, as Chief of the Facial Plastic and Reconstructive Surgery Division. Sharing her knowledge and passion for facial plastic surgery with young residents was a highlight of her academic career. On moving back to Atlanta, she continued her career in Facial Plastic Surgery in group practice, becoming one of the most experienced facial plastic surgeons in the Atlanta area. Eventually, Dr. Elizabeth felt compelled to start her own practice, focusing on her personal philosophy and utilizing her extensive experience to create her signature approach to Facial Plastic Surgery.
Atlanta Face and Body—a different kind of practice
"At Atlanta Face and Body, we set out to offer a little different approach to Facial Plastic Surgery," says Dr. Elizabeth. "I want to use my experience to my patient's advantage, and reduce the fear factors that stand in their way. In procedures where many other surgeons would use general anesthesia, my patients can do well with relaxation and local anesthesia, simply because I am so experienced with this technique (she has performed over 4,000 facelifts in eight years!). That can be a real benefit to patients in terms of faster recovery times and in a reduction of anxiety for those who are uncomfortable about 'going under'."
Firmly believing that "less is more," the team at Atlanta Face and Body also focuses on nonsurgical procedures and minimally invasive surgery. "The truth is, many patients want to improve their appearance, but really don't want surgery," says Dr. Elizabeth. "We're in complete harmony with that and we're only too happy to look at the alternatives and find the least invasive path to reach their goals"
However, when surgery is the best option, Dr. Elizabeth with her experience with thousands of faces of all types, focuses on natural looking results. "Most of my patients would rather look older than look plastic, so that is important to them and to me," she says. "Knowing they can look their personal best rather than like a different person, makes all the difference. My philosophy is 'Everyone will notice, but no one will know.'"
Finding the look that is Beautifully You
At Atlanta Face & Body, the emphasis is on helping you find the best solution to meet your aesthetic goals. They want you to look and feel your personal best which brings with it, the confidence and self-esteem that empowers people's lives. "I believe there is natural beauty in everyone," says Dr. Elizabeth, "My job is to help you find the optimal look that is Beautifully You. My goal is for everyone to notice how great you look, but for no one to know how you pull it off!"
Having said that, Dr. Elizabeth recalls a few occasions when the change in a patient's appearance, while natural looking, was dramatic enough to create unforeseen challenges. "One of my patients had trouble clearing airport security after having her procedure. Security initially thought it wasn't her driver's license as she looked so much younger than the picture and they didn't believe her stated age. She was thrilled and I must admit, I was rather proud," laughs Dr. Elizabeth.
In her rare spare time, Dr. Whitaker enjoys travel. She is fascinated by new and different cultures. Given her love of beauty and appreciation of detail, experiencing the architecture and art of other countries is a favorite aspect of her travels. Her most precious time is spent with her family.
Dr. Elizabeth Whitaker is Double Board Certified by both the American Board of Facial Plastic and Reconstructive Surgery and the American Board of Otolaryngology-Head and Neck Surgery and has been elected a Fellow in the American College of Surgeons. She was the first Chief of Facial Plastic Surgery at Augusta University, and remained a Clinical Assistant Professor. She has served both as a guest examiner and on the exam development committee for the American Board of Facial Plastic and Reconstructive Surgery, which determines the qualifications of candidates for board certification in Facial Plastic Surgery. Dr. Elizabeth Whitaker is considered among the top Facial Plastic Surgeons in Atlanta. Dr. Whitaker is a member of several national societies, has authored both articles and book chapters in the field of Facial Plastic Surgery, serves on the board of her local medical society, and is active in her community.
*Atlanta Magazine, 2018
*Disclaimer: Every case is different, and results may vary due to a number of factors. During your consultation, Dr. Elizabeth Whitaker will discuss the results you can expect.