Elizabeth Whitaker, M.D., F.A.C.S.
Top Atlanta Plastic Surgeon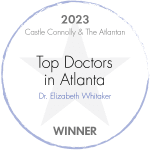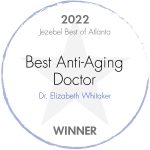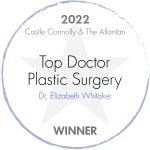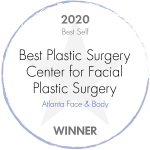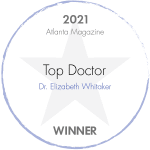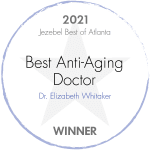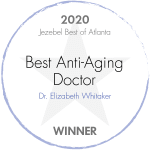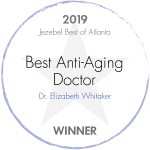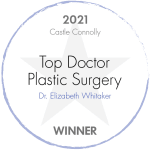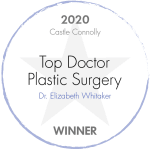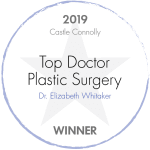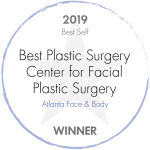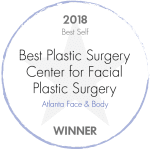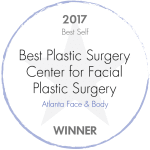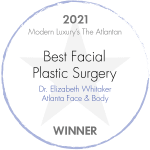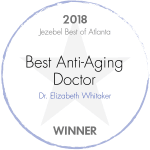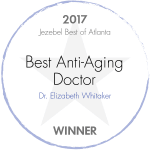 Dr. Elizabeth Whitaker loves being a plastic surgeon because she loves making a difference. "It's so gratifying to see patients suddenly take renewed pride in their appearance. When I see the confidence, the empowerment, that new outlook on life, I'm reminded, 'this is why I do what I do.'
"Not a choice, but a "calling."
Growing up in North Carolina, Dr. Elizabeth wasn't thinking about becoming one of the nation's top facial plastic surgeons. However, her early fascination with science led her to contemplate being a doctor from an early age. She attended high school at the prestigious North Carolina School of Science and Mathematics for students gifted in those areas. She then majored in Biology at Davidson College where she selected Phi Beta Kappa and graduated Magna Cum Laude. While medical school had always been a goal, she thought hard about the long commitment and the grueling years of intense study. "I tried to talk myself out of it,' she explains with a smile, "but I realized that it was a calling rather than a choice. I wanted to help people in a very direct, personal way that utilized my talents. I couldn't imagine doing anything else."
A world-class medical education
Dr. Elizabeth was accepted at the world renowned Duke University School of Medicine where she received her Doctorate of Medicine. It was here that she was drawn to a career in plastic surgery. "The head, neck, and facial anatomy is the most complex in the body," says Dr. Elizabeth. "I find facial plastic surgery to be the ultimate fusion of artistry and technical skill. It's just so gratifying to use your training and experience to make such a positive difference in people's lives."
When people feel good about how they look, it carries over into other areas of their lives. – Dr. Elizabeth
Education
Education
Institution
Date
Fellowship
Tulane University of Medicine
New Orleans, LA
Facial Plastic and Reconstructive Surgery
1998-1999
Residency
Emory University School of Medicine
Atlanta, GA
Otolaryngology – Head and Neck Surgery
1994-1997
Internship
Emory University School of Medicine
Atlanta, GA
General Surgery
1993–1994
Medical
Degree
Duke University School of Medicine
Durham, NC
Doctor of Medicine
1989–1993
Undergraduate
Davidson College
Davidson, NC
Bachelor of Science, Magna Cum Laude
1985-1989
Awards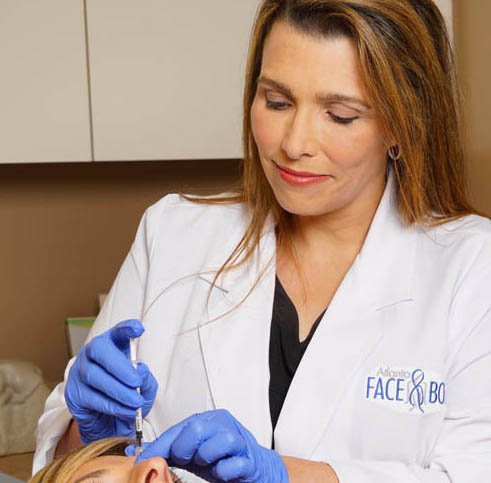 The American Medical Women's Award, Duke University School of Medicine, Durham, NC
Magna Cum Laude, Davidson College, Davidson, NC
Phi Beta Kappa, Davidson College
Alpha Epsilon Delta National Premedical Honor Society, Davidson College
North Carolina Fellows, Davidson College
Credentials
Specialty
Facial Plastic Surgery
Board Certification
American Board of Facial Plastic and Reconstructive Surgery
American Board of Otolaryngology
Medical Licensure
Georgia
Professional Societies
Fellow, American College of Surgeons (2002)
Fellow, American Academy of Facial Plastic and Reconstructive Surgery (2002)
Fellow, American Academy of Otolaryngology/Head and Neck Surgery (1999)
Publications
Whitaker EG, Johnson CM. The evolution of open structure rhinoplasty. Archives of Facial Plastic and Reconstructive Surgery. July/August 2003;5(4):291-300.
Whitaker EG, Yarborough J. Microdermabrasion. In: eMedicine World Medical Library, Otolaryngology and Facial Plastic Surgery section (2001 to present)
Whitaker EG. Rhinoplasty: nasal hump. In: eMedicine World Medical Library, Otolaryngology and Facial Plastic Surgery section (2001 to present)
Whitaker EG. Rhytidectomy: facelift, composite. In: eMedicine World Medical Library, Plastic Surgery section (2001 to present)
Whitaker EG. Rhinoplasty: turbinate reduction. In: eMedicine World Medical Library, Plastic Surgery section (2001 to present)
Devan PP, Whitaker EG. Rhinoplasty: nasal tip projection. In: eMedicine World Medical Library, Otolaryngology and Facial Plastic Surgery section (2001 to present)
Whitaker EG, Yarborough J. Microdermabrasion. In: eMedicine World Medical Library, Dermatology section (2001 – 2007)