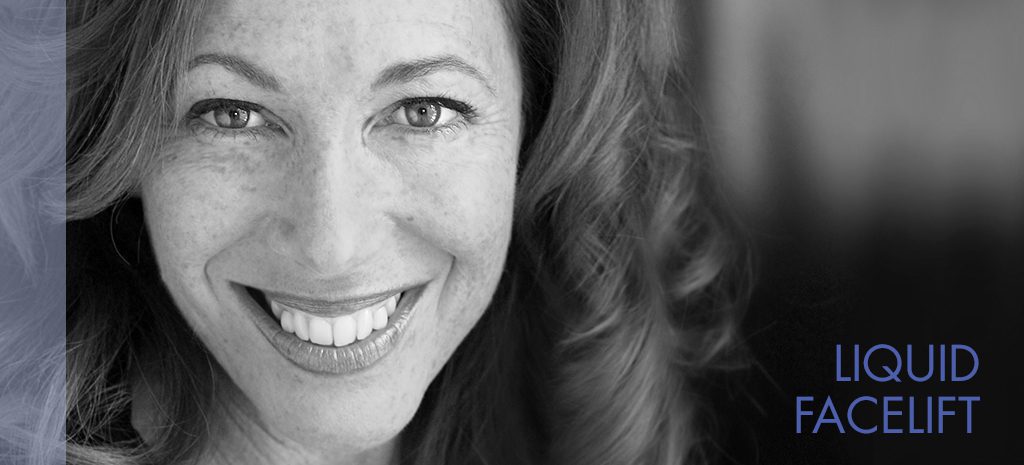 It's all done with simple injections.
Restore the "apple" in your cheeks. Women in their late 20's and early 30s, having lost much of their baby fat, have a characteristically triangular, heart-shaped face that is considered a youthful trait. As we continue to age, however, we find that the triangle inverts – so instead of the cheeks being highlighted in an upward direction, the emphasis shifts downward to the lower face. This is due in large part to loss of fat volume in the cheeks and the face overall. A Liquid Facelift can help to revert the triangle so that youthful look is restored.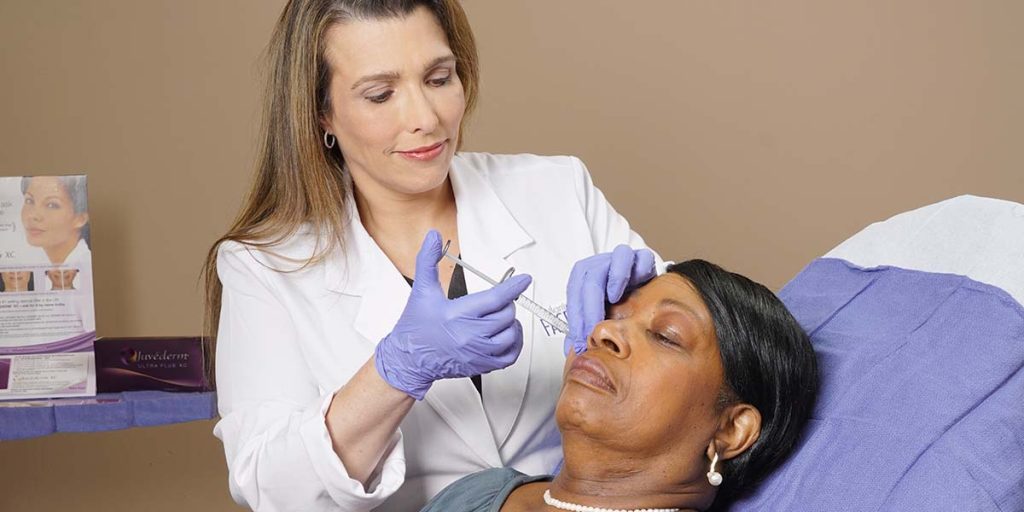 How Does a Liquid Facelift Work?
A Liquid Facelift restores lost volume with strategic placement of specialized dermal fillers. These advanced dermal fillers are sometimes used in combination with Botox® or your own Platelet Rich Plasma extracted from your blood. Precisely placed, these fillers can lift or contour any number of facial features by replacing lost volume, recreating a more youthful look. Dr. Elizabeth's Liquid Facelift can restore fullness to your cheeks and "lift" the cheek area without the need for incisions or surgery. Volume restoration also helps make the skin look more radiant while exuding a more rested appearance. Highlights replace shadows and the "apple" comes back in your cheeks.
Who is a Typical Candidate for the Liquid Facelift?
Women in their 50s and 60s who are concerned about losing volume in their cheeks and experiencing the inverted triangular look are good candidates. But healthy women and men 25 and older who would like a fuller looking face could benefit as well. A consultation at Atlanta Face & Body is a good starting point. Dr. Elizabeth and her staff will provide a thorough evaluation and explain all options available to you. You'll then have all information you need to make an informed decision that's right for you.
What is the Recovery Time Needed for a Liquid Facelift in Atlanta?
While there is generally less bruising with liquid facelifts than with surgical facelifts, there might still be some bruising after the procedure. Bruising is more likely if fillers are inserted around the eyes. Some mild pain, swelling, and redness can also occur after the procedure but usually subside quickly. Most patients resume their daily activities the same day of their procedure.
What Kind of Results Can I Expect?
Most patients experience immediate results after a Liquid Facelift. Depending on the filler used, results last anywhere from 6 to 24 months. After that time has passed, you may need a few maintenance injections to maintain your appearance. Dr. Elizabeth and the staff will go over all expectations during your consultation.
What's the Next Step?
Just call us at (678) 888-3223 to set up your consultation with Dr. Elizabeth.