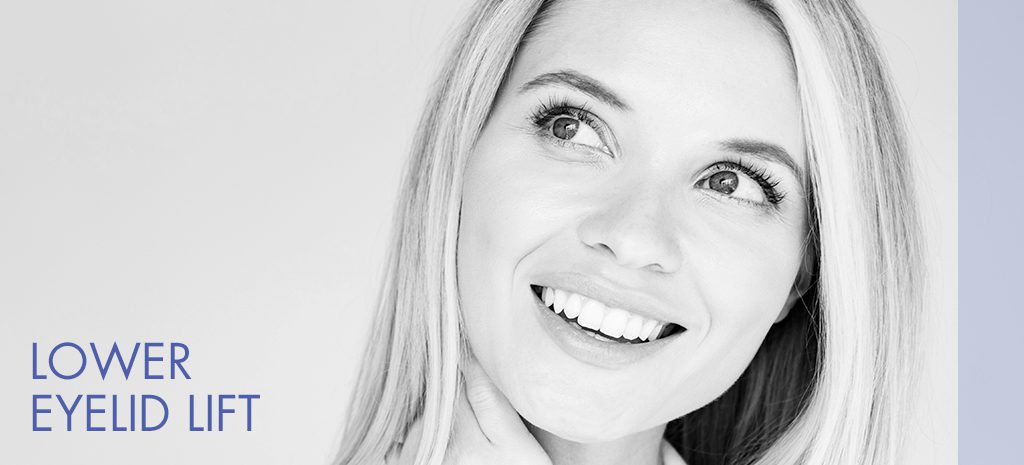 Look More Refreshed With A Lower Eyelid Blepharoplasty.
People who have loose, sagging skin or puffy bags under their eyes often feel self-conscious about looking older and/or tired. This is a common cosmetic concern that affects men and woman all over the world and has many of them searching for a resolution. A lower eyelid blepharoplasty has been a popular and effective solution for decades, with hundreds of thousands of procedures performed each year. Dr. Elizabeth Whitaker, a double board-certified facial plastic surgeon, has become a leading provider of blepharoplasty in the Atlanta area.
What is blepharoplasty?
Blepharoplasty is a type of eyelid surgery in which excess skin and fat is removed from the eyelids for the purpose of rejuvenating your appearance or improving your field of vision. Blepharoplasty can involve both the upper and lower lids, but the lower eyelid blepharoplasty specifically focuses on the sagging or puffy skin under the eyes.
Am I a candidate for lower eyelid blepharoplasty in Atlanta?
If you wish to reduce sagging lower lids or bags under your eyes, then a lower eyelid blepharoplasty may be a good treatment option for you. Ideal candidates for lower eyelid blepharoplasty are typically non-smokers who are in generally good health and who have realistic expectations about their results.
Just keep in mind that lower eyelid blepharoplasty will not improve dark circles or sagging eyebrows. These conditions can effectively be addressed through various alternative procedures, however. For instance, Dr. Elizabeth may recommend a browlift, Signature Facelift™, or skin resurfacing treatment to address these concerns.
What can I expect during lower eyelid blepharoplasty?
In lower eyelid surgery, Dr. Elizabeth makes the incisions in an inconspicuous site along the lash line and smile creases of the lower lid. Incisions can also be made inside the lower eyelid if only excess puffiness due to fat pads needs to be addressed. She will then carefully remove or redistribute excess fat, muscle, or sagging skin before suturing the incision.
Under normal conditions, blepharoplasty typically takes about an hour to perform. Afterwards, you will spend some time in a recovery room to ensure there are no complications. Then a friend or family member may drive you home to recuperate.
How much recovery time is needed after lower eyelid blepharoplasty?
The skin of the eyelids heals remarkably quickly, and scars are usually well hidden (though the scars may take months to heal). The most common side effects are bruising and swelling, but these typically resolve in approximately 10-14 days. Ice packs can be used to provide relief from swelling or discomfort in the days after surgery. We recommend that you don't do any strenuous activities for about two weeks after your procedure. Most patients return to work in a few days.
We'll go over all the details of your at-home care regimen at your consultation and make sure you have a clear understanding of what to expect.
How soon will I see results after lower eyelid blepharoplasty?
Once any swelling and bruising has subsided (which may take a few weeks), you'll likely notice a more refreshed appearance in your lower eyelids. Many blepharoplasty patients say they feel more self-confident and look younger and more rested. Full results should take place in four to six weeks, but that timeframe can vary from person to person. Dr. Elizabeth and her knowledgeable staff will discuss all realistic expectations with you at your private consultation.
What's my next step to lower eyelid blepharoplasty in Atlanta?
If lower eyelid blepharoplasty sounds like a good option for you, call us at (678) 888-3223 or click here to book your consultations online. We'll schedule a time that's convenient for you and go over all details of the procedure to determine if it's right for you.