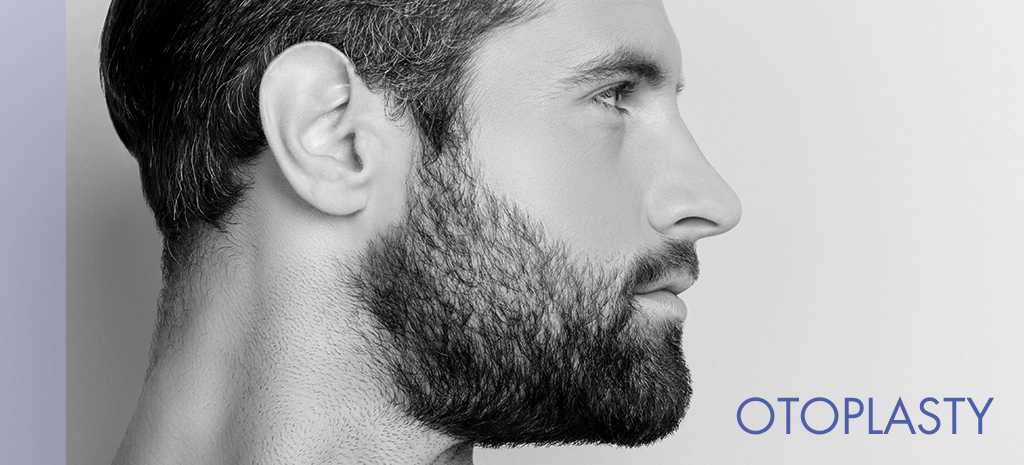 Your outer ear (the pinna) only plays a minor role in the process of hearing, but it can play a major role in how you look and feel. Many men admit to being self-conscious about the appearance of their ears, often feeling like they stick out too much or are misshapen and disproportioned. This may cause embarrassment and psychological distress. If that's the case with you, then perhaps it's time to consider a surgical option. At Atlanta Face & Body,
Dr. Elizabeth Whitaker
, a renown Facial Plastic Surgeon, offers a minimally invasive surgical procedure designed to reshape and/or reposition your ears to fulfill your aesthetic desires. Otoplasty may offer a viable option to effectively improve your look and boost your confidence.
How does otoplasty work?
Otoplasty, often referred to as "ear pinning," is a minimally invasive cosmetic procedure that can alter the shape of the ears and/or their size and position. Dr. Elizabeth performs an otoplasty by making an incision just behind your ear in the natural fold where it joins to your head. Through this small incision, cartilage can be repositioned or removed to sculpt a more desirable shape. If your ears are sticking out too much, an appropriate amount of cartilage and skin can be removed to anchor your ears closer to your head. This procedure can typically be performed with relaxation and local anesthesia or IV sedation.
Am I a candidate for ear repositioning or reshaping with otoplasty?
If you feel your ears are too prominent or misshapen, either as the result of genetics or from a previous injury, then otoplasty may offer the solution you've been searching for. Men in generally good health and of any age are typically good candidates. Your first step to finding out if otoplasty is right for you is to schedule a private consultation at Atlanta Face & Body.
What's the recovery like from otoplasty?
After your procedure, you'll be instructed to wear a compression headband to keep the ears in proper position, help reduce any swelling and bruising, and protect your ears overall. This bandage will be removed at your postoperative visit. You may be instructed to wear a special headband for a while longer depending on your level of surgery. Bruising and swelling are common, and you're likely to experience some mild discomfort and soreness for a day or so after the procedure. Mild itching as the incisions heal is also normal. Though most patients usually begin to notice a gradual improvement over the course of two or three weeks, it can take up to six weeks for full improvement. If you have a job with a low risk of anything hitting or tugging your ear, you can usually return to work in about a week. It's best avoid strenuous physical activity for approximately 3 weeks…and any contact sports for a few months. Dr. Elizabeth will discuss all aspects of recovery with you at your private consultation to make sure you have a clear understanding of what to expect.
What kind of scarring can I expect from otoplasty?
In addition to the benefits of improving your appearance, any scarring from the procedure is virtually invisible because the incisions are made behind the ear in the natural fold. Once complete healing has taken place, it'll be almost like nothing ever happened as far as scarring.
What results can I expect from otoplasty?
Once the bandages are removed and complete healing has taken place, you'll see noticeable improvement and enjoy those results permanently.
What's my next step to otoplasty in Atlanta?
If you're unhappy with the look of your ears and finding yourself searching for a solution, we'd love to help. Schedule your private consultation with Dr. Elizabeth at Atlanta Face & Body by calling (678) 888-3223 or clicking
here
to schedule online.