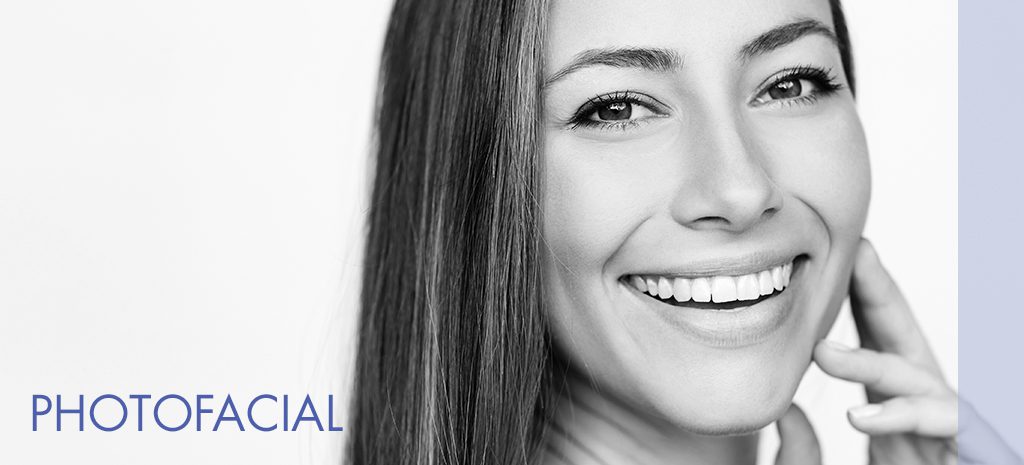 Improve your skin tone with the amazing nonsurgical IPL Photofacial.
What is an IPL Photofacial?
The IPL (Intense Pulsed Light) Photofacial is a laser light treatment that specifically targets brown spots, sun damage, red spots, rosacea, and other skin conditions. During treatment, a bright light passes through the epidermis, which effectively draws out the skin's pigment-producing cells and disperses them to help even out tone. Treatment can be performed on the face, neck, chest, shoulders, back, arms, legs and various other areas of the body. The IPL Photofacial is also effective at treating broken veins and spider veins.    
How does the IPL Photofacial work?
The IPL Photofacial emits multiple wavelengths of light into the skin to effectively target pigment producing cells just below the surface. The light energy is converted to heat and gently destroys the hyperactive melanin producing cells in the layers of your skin. Discolored spots are pulled to the surface, eventually flaking off to reveal beautiful, healthier-looking skin.
Am I a candidate for an IPL Photofacial?
If you want to improve your skin tone by reducing pigmentation from age spots and sun damage, then an IPL Photofacial may be right for you. It's also an effective treatment for people who want to relieve redness and reduce capillaries around the nose and cheeks. At Atlanta Face & Body, our staff will evaluate your specific skin issues, explain the procedure in detail, and help you decide if it is the best option for you.
What specific skin conditions can an IPL Photofacial address?
IPL Photofacials can improve the appearance of the following skin conditions:
Uneven skin tone
Redness/rosacea
Enlarged pores
Acne
Sun damage
Hyperpigmentation
Fine lines and wrinkles
Broken veins and spider veins

What kind of results can I expect following my IPL Photofacial?
The effects of an IPL Photofacial are gradual. Most patients begin to see a change in their face within a week to 10 days. Other treated areas of the body may take about six to eight weeks to show full results. You will see increasingly positive results throughout your series of treatments and eventually achieve the smooth, radiant complexion you've always wanted.
How many IPL Photofacials will I need for best results?
While you will see significant improvement after your first treatment, a series of treatments are often needed to achieve optimum results. We generally recommend three to five facials spaced about four weeks apart. We'll determine the exact number of treatments based on your individual needs at your consultation.
Is there any recovery time needed after the IPL Photofacial?
Since it's a nonsurgical procedure, there is no downtime needed following your IPL Photofacial. Your skin will likely appear red for the next several hours (like you have a mild to moderate sunburn). This typically dissipates within about 24 hours. For about a week after treatment, limit sun exposure and be consistent in wearing sunscreen daily.
What's my next step in getting an IPL Photofacial in Atlanta?
Schedule your consultation at Atlanta Face & Body to find out if the IPL Photofacial is your best bet for a glowing complexion. Call us at (678) 888-3223 to learn more today.