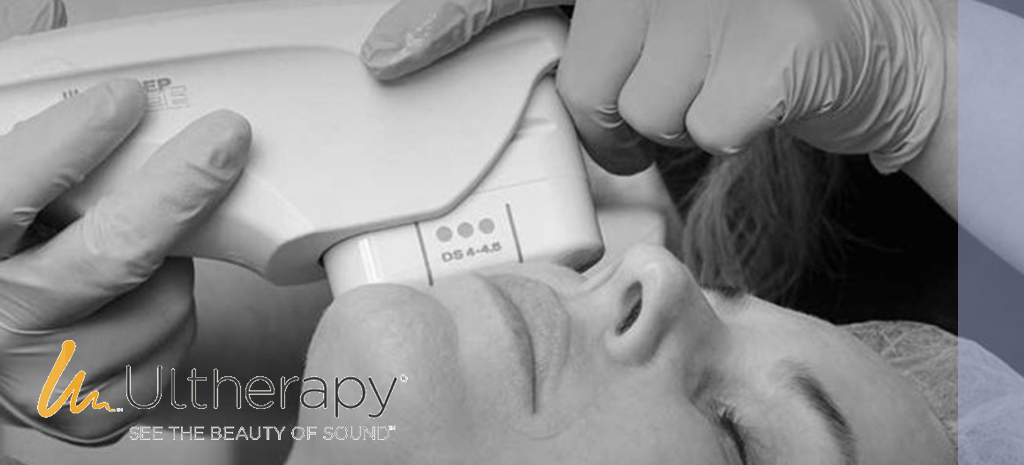 Ultherapy: The Gold Standard For Nonsurgical Lifting And Skin Tightening
For people who desire a more youthful appearance but aren't yet ready for a facelift or other invasive procedure, luckily there are some effective noninvasive treatment options available. Ultherapy® is one of the latest innovations in nonsurgical skin lifting and tightening. As the only technology FDA cleared to actually "lift" the skin of the neck and brow, Ultherapy is as close as you can get to a face or necklift without surgery or downtime. It's also a great treatment option to smooth those unwanted wrinkles on the chest and décolletage.

Ultherapy stimulates your body's own collagen production by delivering microfocused ultrasound energy to the foundation layer underneath the skin (the superficial muscular aponeurotic system or SMAS) that is typically tightened in surgical facelift procedures. Unlike lasers and radiofrequency technologies, the ultrasound energy triggers a natural response in this foundational layer of the skin, jumpstarting the regenerative process that produces new collagen. The result is natural-looking lifting and tightening of the treated tissue.
Ultherapy is the only cosmetic procedure to use ultrasound imaging, affording the practitioner greater precision when targeting the layers of tissue during treatment. While Ultherapy won't duplicate the more dramatic results of a full surgical facelift, it is a clinically proven alternative that's safe for all skin types.
How do I know if I'm a candidate for Ultherapy treatment?
Good candidates for Ultherapy are generally those with some degree of skin laxity. Candidates most often have loose skin under the neck and chin, or lines and wrinkles on the chest. Typically, people in their 30s and older who have mild to moderate skin laxity can benefit from treatment. While Ultherapy should not be considered a replacement for a surgical facelift, there are many people who still want some degree of facial lifting but are not yet ready for surgery.
Ultherapy has even been used as a means of "pre-juvenation" for people in their 20s and 30s or to address early signs of aging for people in their 40s. Ultimately, anyone seeking smoother, tighter, and younger-looking skin with no downtime may be good candidates. Before your Ultherapy procedure, the Atlanta Face & Body staff will perform a thorough evaluation to make sure it's the right treatment option for you.
Does Ultherapy treatment hurt?
At Atlanta Face & Body, we offer our Signature Comfort Protocol to minimize the mild discomfort experienced by some patients. That said, this treatment does feature some intensity because it addresses deeper layers of tissue compared to other technologies. But your comfort is always our priority, so you can experience the advantages of this amazing treatment with peace of mind.
What is recovery like with Ultherapy?
There's no downtime with Ultherapy. You can return to your normal activities immediately after your procedure without any post-treatment restrictions. Your skin may appear flushed immediately following your treatment, but this redness usually disappears within a few hours. Again, due to Ultherapy's technology in addressing deeper layers of tissue, some patients experience slight swelling, tingling, or tenderness in the treatment area, but these are usually mild and temporary. Less common post-treatment effects may include temporary bruising or numbness.
What results can I expect from Ultherapy in Atlanta?
Most patients notice some improvement almost immediately, with tighter, smoother skin. But the greatest results gradually begin to appear in the weeks following treatment as collagen production is kicked into high gear.
Since Ultherapy stimulates your own collagen production, how long results last depends on each individual. Optimal results generally appear over two to three months and can last up to a year or more. While new collagen is produced on the inside, your own lifestyle and natural aging process will dictate how long that translates into visible results on the outside. Future touch-up treatments may be recommended to help provide long-lasting improvement based on your personal aesthetic goals.
What's my next step in getting Ultherapy in Atlanta?
Learn more about the amazing skin-tightening power of revolutionary Ultherapy by scheduling a private consultation at Atlanta Face & Body. Call us at (678) 888-3223. We will go over all details of the procedure and help you decide if it's the right treatment option to meet your individual aesthetic goals.